Goodbye Kit now available on kindle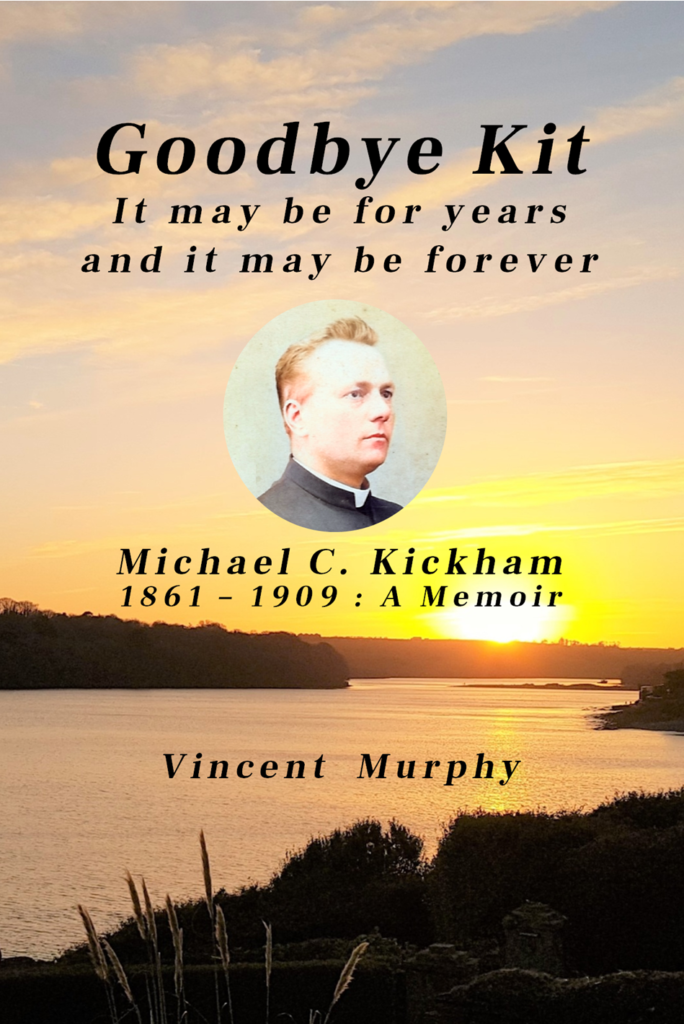 Tipp FM Interview with Author
Author Vincent Murphy was interviewed by Fran Curry live on air on Tipp FM on Monday 28th March 2022. Clink on the link below to listen to the interview.
Book Signing Monday 28th March
Author Vincent Murphy will sign copies of his book at the Bookmarket, Clonmel from 2.00 to 3.30pm on Monday 28th March. If you have bought a copy and would like to have it signed by the author, bring it along, or come buy a copy and have it signed.
Later at 4.30pm, the author will be at Lonergan's Gala in Mullinahone to sign books.
Book Launch
A formal launch of the book "Goodbye Kit. It may be for years and it may be forever" tooktake place in the Unitarian Church Princes St. Cork on Thursday 10th March at 7.30 pm. Cork renowned author Billy O'Callaghan was the key speaker. For a recording of the launch, click below:
The video is about 19 minutes long. The first minute or so is the opening by Rev. Mike of the Unitarian Church, followed by author Billy O'Callaghan for about 5 or 6 minutes, then the authors speech for the remainder.
Interview with 96 FM
Vincent Murphy was interviewed by PJ Coogan on Cork Radio Station 96 FM
The Story
As Missionary in New Zealand, Michael Kickham experienced discrimination by the Marist Priests in charge of the diocese against Secular Priests, mostly Irish. Michael and 17 other seculars petitioned Pope Leo XIII about this.
On St. Patrick's Day 1888 he was reprimanded by Bishop Grimes for his expressed nationalist views. He sought to leave the diocese and got permission to join the Jesuits in Melbourne, on condition he return to Christchurch if he didn't stay. He left after 3 months, but refused to return to New Zealand.
There followed acrimonious correspondence between Michael and the Bishop, culminating in the Bishop writing to Cardinal Moran in Sydney. The Cardinal sided with Michael and he was free to remain in Australia.
He returned to Ireland in 1899. He remained only 2 years before departing for an undisclused destination. His parting words to his sister were: "Goodbye Kit. It may be for years and it may be forever". In 1907 the family discovered by chance that he was in Buenos Aires, no longer a priest. He died there in 1909.
The book is based on numerous letters, contemporaneous newspaper articles and extensive research. Michael kept a low profile in Buenos Aires. How the story of this period of his life was developed is set out in the chapter Enigma.
To read an excerpt from the book, look at the page: From "Goodbye Kit"
Where to Buy
Goodbye Kit can be purchased online by clicking on the button below:
The book is available for sale at:
The Bookmarket in Clonmel
as well as on line by following the above links